---
A Children's Optometrist Specializing in Eye Health, Vision Quality, and Practitioner Trust
While you and your child are busy preparing for school and dealing with life and growth, one of his or her most important abilities is in a critical state of development. Pediatric eye doctor visits help to make sure that your child's eyesight is on track for a vibrant future. While it is true that children "grow out of " some conditions, in many cases pediatric eye conditions need to be caught and treated in order to avoid serious vision problems in later life. Caroline Robison, OD in Ridgecrest and Tehachapi, provides caring, supportive children's eye care as they grow.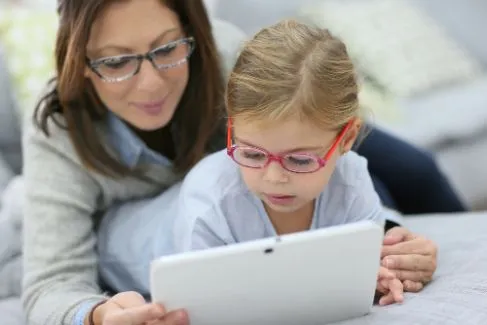 Eye Movement and Coordination Disorders in Children
It is essential to make sure that your child is seen regularly by an eye doctor to catch conditions such as amblyopia and strabismus that respond well to early intervention. It is a critical time because, if left untreated, some conditions can be a source of visual difficulty during adult life. A children's optometrist will test eye movement and coordination and provide exercise or other solutions to help train their vision system including brain, eyes, and related muscles, to work better together. Without this care, "lazy eye" and other conditions can become permanent.
Retina and Eye Muscle Development
Children's eye exams pay special attention to parts of the eye that are under development, including the retina where images are received and translated for the brain, and eye muscles that focus and move the eye. Of course, at each pediatric vision exam, we are also concerned with how the developing brain is learning to see and making sure that your child's overall vision is the best that it can be for success in the future.
Overall Pediatric Eye Health and Growth
With regular eye care visits, you know that your child's visual development is receiving the careful attention it deserves. Since kids engage a lot with the world, we are also here to provide prompt, specialized care for children's eye diseases and injuries.
Premature Birth and Eye Development
Eye development in the months before birth is rapid and critical for future visual health. If your child is born prematurely, it is important to watch for developmental problems specific to their situation, such as Retinopathy of Prematurity or ROP, and provide treatment.
Bring Your Child to a Comfortable, Caring Pediatric Children's Eye Doctor
Caroline Robison, OD provides expert eye care for adults and children in offices serving the Ridgecrest and Tehachapi areas for your convenience. Contact Caroline Robison Optometry today at (661) 972-6890 in Tehachapi or (760) 375-4496 in Ridgecrest.