Regularly scheduled eye exams are an essential part of maintaining your eye health. Our optometrist, Caroline Robison, OD, will carefully check your eye health and vision to ensure they are functioning properly. Vision changes from year to year, especially in children and older adults. Regular eye exams allow our eye doctor to check for issues and update vision correction prescriptions. If it's been a while since your last eye exam or if you're new to the Ridgecrest or Tehachapi area, contact Caroline Robison Optometry to schedule an appointment.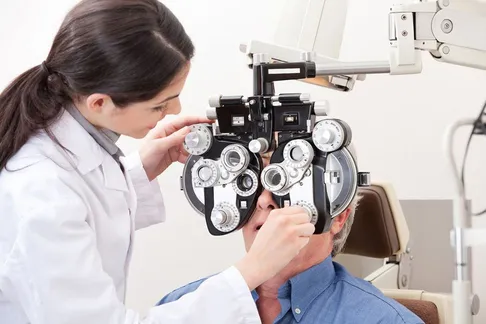 Tailored Eye Exams for Your Stage in Life
As a children's optometrist as well as an adult eye doctor, Caroline Robison, OD pays special attention to developmental vision issues that can benefit from early intervention. Correction for amblyopia and strabismus can make a big difference in sports, schoolwork, and social life as your child develops.
In seniors, vision changes can cause anxiety, and Caroline Robison, OD is a sensitive, caring eye doctor who can help diagnose and tackle any eye health issues such as macular degeneration that may arise. At any age, she offers a variety of vision correction options that help you live your best life. Some of our more popular options include single and multi-vision glasses, contact lenses even if you have special vision needs, and low vision aids.
What to Expect at an Optometry Visit
During your visit, we will ask about any eye concerns or health issues you've experienced during the past year that might affect your eye health. We will check your vision using an eye chart, test eye pressure using a tonometer for screening, and perform vision measurements including a field of vision test to look at the quality of your peripheral vision.
We also check your eye movement and coordination and do a visual exam to make sure the external parts of your eyes are healthy. We use special equipment to look at the back of your eye, the retina, to make sure that this critical part of your eye is in good shape, especially for diabetics. While checking the retina, we will also check your optic nerve and make sure it's healthy.
Corrective Lens Prescriptions
If you need glasses or contacts, our eye exam will include a discussion of your correction options. We will also conduct thorough testing to determine the appropriate prescription strength to provide clear vision.
Eye and Vision Exams at Caroline Robison Optometry
If you live in Ridgecrest, Tehachapi, or the surrounding area and would like to schedule an appointment with our eye doctor, Contact Caroline Robison Optometry today at (661) 972-6890 in Tehachapi or (760) 375-4496 in Ridgecrest. At Caroline Robison Optometry, your vision is our priority.